I recently co-authored a short article earlier this month for the International Trademark Association Bulletin. In it, we discuss the recent cross-border data transfer issues wrought upon the EU and the US since the Schrems II decision last year and its aftermath. In fact, the decision has messed with data transfers out of the EU to nearly every other country in the world.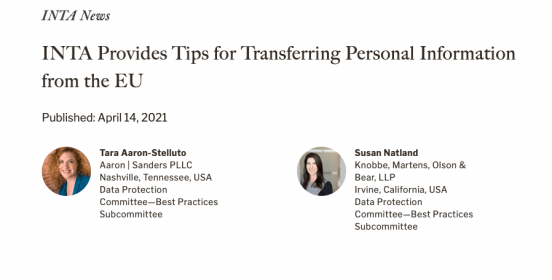 Not long after the INTA Bulletin article, a report suggested that there are "intense negotiations" happening between the EU and the US to replace the Privacy Shield regime struck down by the Court of Justice of the European Union last year. But yesterday the New York Times reported on a newly declassified ruling from November from the FISA Court. The Foreign Intelligence Surveillance Court in the US renewed the FBI's warantless surveillance program.
The Court renewed the program despite acknowledging "widespread violations" of rules established to protect Americans' privacy. This surveillance program was at the heart of the Schrems II Court's reasoning for dismantling the Privacy Shield; it remains to be seen how Privacy Shield will be replaced when the surveillance program continues despite admitted knowledge of its ongoing violations of privacy.
Other News
Yesterday Apple released an operating system update that will require app developers to make users opt-in to having their data used to track them across the internet. Adtech is so far been fairly quiet on what this will mean, but surely it will mean a lot. A consortium of German companies has already filed an antitrust lawsuit against Apple for this move.
Google has promised to kill cookies and soon, but they may be around a while longer. Yesterday European Commission Executive Vice President Margrethe Vestager wrote Google's "proposals to deprecate third-party cookies" are part of its ongoing antitrust investigation into the company.
Watch This Space
Between an end to the stalemate on data transfers, a new opt-in regime for mobile advertisers, and an EU antitrust suit against Google, there is much to keep an eye on these days. The sooner the first one gets resolved, though, the sooner we can all get back to work.